Written by
kat
on June 28, 2018
We need your help!
Come learn about electronics design and hardware hacking while chumming along with your DC612 community!  Regular DC612 attendee and Badge Designer Extraordinaire Eric Osterberg has designed a top notch badge called the J-Badgulator.  He needs our help in assembling them for Debut at Defcon.
TCMaker at The Hack Factory has graciously loaned us classroom space for this event.  No need to bring anything to this event but a willingness to learn!
Details:
When:  Sunday July 1st 2pm – 8pm (come to all or any of the event)
Where:  TCMaker at the Hack Factory
What will be be doing:  Assembling ~100 Electronic Badges designed by Eric Osterberg.
3119 E. 26th Street
Minneapolis, MN 55406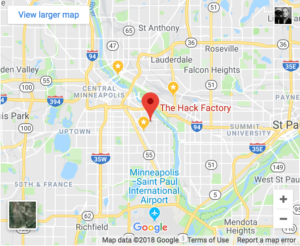 Hello, and  sorry for the late posting!
This month we will hear from our very own Crypty McCryptoface as he shares with us his CypherCon talk.  We will also hear from Paul re: "J-Badgulators", whatever those may be.  Find out with us!
— TactiFail
Where:  Wilde Roast Cafe – 65 Main St SE, Mpls.
When: Thursday June 14th, 6PM